What is the first thing you think about when you hear the word 'Summer'? sun? watermelon? swimming pool?… Yes! Swimming pool is the nice choice for summer it's the place where you can proud to wear your bikini but the pool it's so very crowded in summer, so why don't you need some where that you can swim and don't mess with some kids are playing with their summer balls (*wink*). We are proudly to presented 'Mae Ngat Dam' the summer paradise in ChiangMai.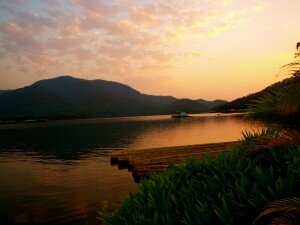 More Info. :
Mae Ngat Dam located at Mae Tang sub-province in ChiangMai. It's open daily and the first thing you have to do when you get there is finding some boat to go to the inside area (600 BTH. per round-trip with long-tail boat which can contain 8-10 people ) it takes 20 minutes to get into the inside area, the view around there when the boat is sailing is so shady and very cool, so take some cool picture there or you are gonna regret it!
The most important thing to do is renting some floating bungalow around there and relax yourself by swimming, sunbathing, drinking some beer and having the great moment!
Activities:
- Swimming in the dam (recommend to wear the life suit because it's very deep)
- Fishing
- Sunbathing
- Kayaking
- Singing Karaoke with your besties
…and more
How to get there:
It takes 1 hour from ChiangMai city to Mae Tang sub-province, you can go by SongThaew(mini red van) is the great idea.Mae Ngad Dam is located in Amphur Ban Pao, Mae Taeng, covering land of the park twenty sq. kilometers, the water reserving area from streams within the park is 1281 sq. kilometers. Not too faraway from town, simply only 30-40 kilometers from Chiang Mai.
Here is the map!