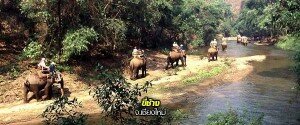 Elephant is the unique attractions of Chiang Mai is one of the most interesting and popular destinations. There are many that ElephantEach of which will provide a lot of different things to do away. For example, starting with the elephants bathing in the creek, washing off the dirt. And so the elephant enjoying being soaked in water. When bathing is complete Mahout leads elephant to put a tug on his back. To haul logs in the forest comes to life in various ways. The exhibit every day in the morning at about 9:40 to 10:30 pm There is also a riding elephants and rafting the needs of tourists.
Yours Chiang Mai, it is recommended that visitors can watch an elephant show and activities with elephants on their own following.
Located in Mae Rim Open daily There are displays of elephant Beginning at 9:30 pm with service trekking, ride, visit hill tribe villages.Dining in a river Or bamboo rafting along Mae Taeng river.
Elephant Show: Elephant is very much like a pets of mahout. They are always happy in performing of special skill to please the crowd. Hauling and stacking of timbers as in the past is the main performance. However, elephants are also trained for football, play harmonica, basket ball and dance, etc. They like the sound of hands clapping and would in turn to offer curtsies and trumpet calls. Special feature of elephant artists painting on elephant dung papers, which processed in the camp.
Is a town about 50 kilometers (next to the Mae Taman Elephant into a bit) has a rather large elephant. Have shown the ability of elephants.Including their homes and tribes in Thailand with the Elephant.
Chiang Dao Elephant Training Center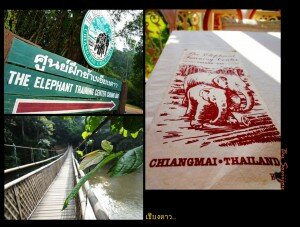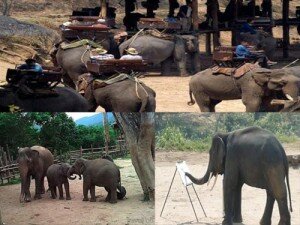 Chiang Dao Elephant Training Center has one of the most beautiful natural settings in Chiang Mai surrounded by small hills and the Ping River running through it year round.
Chiang-Dao Elephant Training Center works elephants in the mornings only, allowing all elephants to enjoy their afternoons and nights in the beautiful and bountiful natural environments so that they can return to their natural habitats, breed and live in as natural a way as possible. Because of the importance put upon their natural habits, baby elephants are adopted by the herd and the natural behaviors of the elephants allow them to behave as they would in the wild. Baby elephants are cared for and grow into members of the herd which in turn care for the future young.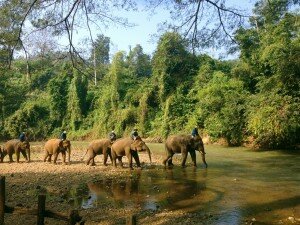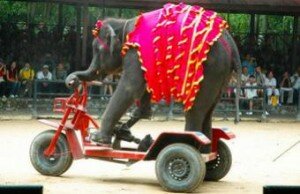 Ceremonies: Every 16th of April we at Chiang-Dao Chiang Mai Elephant Training Center organize the traditional dam hua ceremony (normally held by the Lanna people during the Thai new year period to show respect for elders). Starting from 8 a.m. we perform this ceremony to apologize to the elephants for any transgressions made against them during the previous year as well as to show our respect and appreciation for the love, obedience and friendship which we have received over the past year from the elephants.
The entire ceremony starts on the 13th of April when we make offerings to the local spirits which includes boiled chicken, alcohol, mieng leaves, local cigarettes, candles, floral offerings, and incense sticks. On the morning of the 16th we make a special offering in the memory of founders of the camp Manas Yaviraj and Sunantha Yaviraj, pioneers of elephant camps in the north of Thailand. This ceremony includes offerings of flowers to be placed, on the heads of elephants as well as the pouring of cumin and Sompoi water, prays of apology and blessings for the longevity, health and happiness of the elephants. Elephants will then be fed a banquet of their favorite foods including sugar canes, bananas, coconuts, watermelons, tamarinds and corn.
This has always been a private ceremony held between the owners, staff and elephants of Chiang-Dao Chiang Mai Elephant Training Center. It is an intimate and simple occasion but important for us to, at least once a year, pay our respect and appreciation for all that we receive from our elephant friends and companions.
For the one hour elephant rides, rides start from 8 a.m. and end at 11 a.m. Riding times are scheduled to start at 8, 9, 10, and 11 a.m.
For the one and a half hour ride to the Lisu hilltribe village, rides are available twice per day starting at 8 and 11 a.m.
The History of "Maesa Elephant Camp"
Maesa Elephant Camp was established on the 8th of April 1976 by Mr.Choochart Kalmapijit. During the time, Thai Government was supporting Chiang Mai province to be one of tourist attractions of Thailand. Many leading travel agencies were suggesting that Chiang Mai should have elephant camp as a tourist attraction. Seeing the possibility, Mr. Choochart decided to make the investment establishing Maesa Elephant Camp. Begin from renting the 30 Rai piece of land in Mae Mae village from "Kong pun Sud Tang" (Pack Squadron of Thai military) which had already been elephant camp, 5-6 elephants were rented from Karen people, living in Sa-Merng district.
Initially, the elephant show was focused on logs working of elephants and there were only 5-10 visitors each day. It's been a while before the elephant show has been changed into more entertaining direction, for example, a show of elephants playing soccer, and drawing pictures. Until now, Maesa Elephant Camp has been running for 36 years, with more than 80 elephants being taken care of. It's been 36 years that Mr. Choochart has always been taking good care of the elephant's life in the camp, especially the good food.
The camp has a well-organized system to manage elephant's food supply. Not only six tons of food has been delivered to the camp everyday, but the camp also glows its own Napier Grass, banana, sugar-cane and coconut trees in more than 100 Rai of land. There are also many herbal plants farm, glowing for the purpose of medical supporting, together with the hospitality of the veterinarian of the camp. (Vet.Ronnachit Rungsri)
Open daily from 07.00 am to 02.30 pm.
Show Times : 08:00 am., 09:40 am., 01:30 pm.
Visit our showground and enjoy a variety of fabulous shows of elephants who love to show off their skills and have a good time.
Once you enter the show ground, 20 elephants will parade to welcome you to their show. Don't miss a chance to observe the elephants bathing at the two bathing areas on Maesa River before each elephant show. The shows are as following: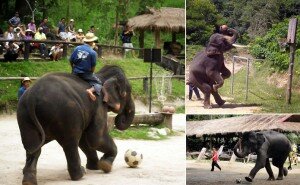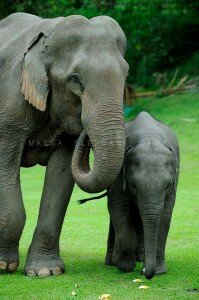 ~ Demonstration of the various ways of getting on/getting down the elephants.
~ Musical Talent Show and Dancing.
~ Demonstration on how the elephants sleep.
~ Elephant Football League. (Soccer Show)
~ Elephant Artist Show. The first place where elephants paint abstract and realistic style.
~ Traditional Thai Massage Show.
~ The Elephants Competition : Sticks Pick Up Game.
~ Dart Game Show by Elephants.
~ Logging Show and Lumber Work Show.
Also watch the elephant show The Elephant Nature Maesa Elephant Camp offers program. Basic Mahout Course at Baan Kwan Chang as well.

" Basic Mahout Course at Baan Kwan Chang "
The mahout training course begins with an introduction on elephant health and biology as well as elephant body language before starting the "Hands On Practice"
Additional highlights in the programme include painting, bathing, riding and handling elephants. During a memorable farewell ceremony, all participants will receive a certificate of achievement to take home and cherish. Group photos with your elephants will complete your day.
1 Day Basic Mahout Course
2 Days/ 1 Night Basic Mahout Course
3 Days/ 2 Nights Basic Mahout Course
Elephant Artists
In the year 2000, when the young calves in Maesa Elephant Nursery reached two year of age, it was time to seperate them from their mothers. From that day forward, these little 'Jumbos' would live with and be trained by a mahout, learning commands, performing skills, and – for the first time at Maesa Elephant Camp - painting!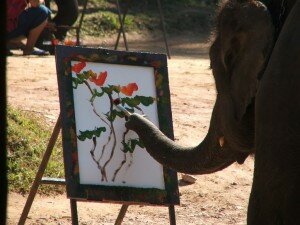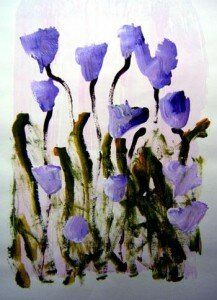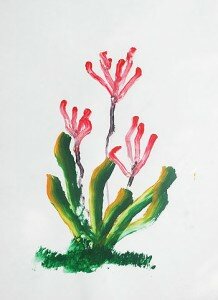 The first step for the young elephants was to learn to hold the brush in their trunk. Initially, the calves were reluctant to pick up a paint brush and it took more than a month of persistence before the would-be artists became adept at simply holding the brush in their trunks. The next step for the mahouts was to train them to actually put paint onto paper. One of our pachyderm prodigies successfully painted dots, while the other three chose to paint beautiful lines.
Aiming to spread the value of Thai elephants' skills and their artistic works to the world, Maesa Elephant Camp decided to nominate their elephants' painting to be recorded by the Guinness World Record. The record breaking event was held on February, 19, 2005, and witnessed by Guinness World Records. On that day, the eight elephant artists – Kongkum, Wanpen, Kamsan, Lankam, Duanpen, Songpun, Punpetch and Pu Ood – spent six hours skillfully creating a modern impressionist painting to depict the gorgeous natural scenery of Northern Thailand.