Cradled during a scenic natural depression of the Suthep-Pui range, north-west of Chiangmai of northern Thailand, Hmong Hill tribe Lodge provides you outstanding chance to expertise traditional Hmong culture amidst placing natural beauty. This natural lodge resort is surrounded by the greenery scene of nature and feel comforted from many friendly Hmong villages. the weather at Hmong Hill tribe Lodge resort is pleasantly gentle and cool all year round.
Accommodation:
This amazing place is made of ten individual homes, every comprising four separate rooms conveniently around a central communal space with traditional Hmong style of furniture and blanket.
Guests could make a choice from a variety of
- standard (28 rooms) price around 1,650 BTh.
- superior (9 rooms) price around 2,022 BTh.
- deluxe rooms (3 rooms) price around 3,534 BTh.
Each rooms has a different styles of traditional Hmong decoration with many convenient facilities such as private bathroom with water heater, air-conditioner, chill-out area, coffee-maker and balcony to see the full view of nature.
Foods & Drinks:
In the evening this lodge resort provides you the BBQ buffet dinner, while native villagers show their distinct and ancient customs of prayer, wedding rites and ancient performing arts to native instruments. All beneath the watchful gaze of the evening stars shine down from clear sky.
Activities:
- Hmong Traditional Performance
- Elephant riding
- Bamboo rafting
- Swimming in the outdoor swimming pool
- Travel around the tribal communities nearby to watch and learn the intricate techniques
- Trekking tour to nearby village
- Massage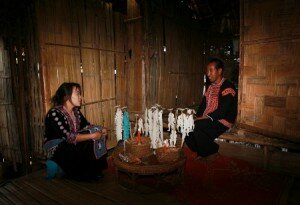 Location:
Hmong Hill Tribe Lodge Resort is located at Mae Rim district, only an hour's driving from ChiangMai city.
More Information:
Telephone No. : 02-642 5497, 081-993-1416
Visit Their website : http://www.hilltribelodge.com