Like I just said in our last story about how to make Krathong for this Loy Krathong day. Today and the next to days is the day *Taa-daa* and if you don't know what's the big deal with this festivity, Your Chiang Mai is about to answer your question.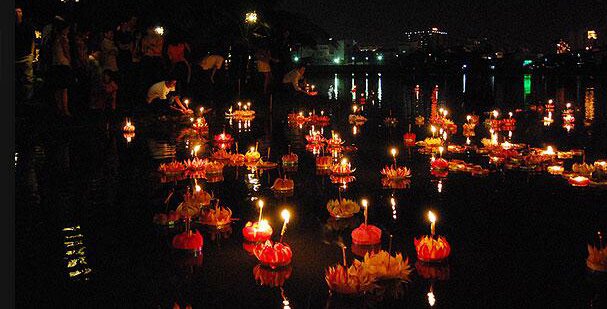 In Loy Krathong or Yee Peng in this year is going to celebrate on 24 – 26 November and in this 3 days are having very exciting and great activities that you have never experienced before (if you come to Thailand for the first time.).
On 24th November, you can watch and enjoy the gorgeous Yee Peng light lantern marching and parades, it will be set up at Tha Phae Gate through Chang Klan Road, end and competed at Pantip Plaza Chiang Mai.
On 25th November, experienced another attractively parades sent from any districts in Chiang Mai ,float your Krathong into Ping river and light up and fly your light lantern to the night sky with full moon.
On 26th November, Enjoy the parades, but not the same parade,you will experienced the elegantly illuminated big parades, this is the highlight of Yee Peng festival because every regions in Chiang Mai will send their parades to compete with one another to show their talent, identity of their identities. Also, it has the Pageant competition called "Miss Nopphamad " and little pretty kids competition as well.
It will be at Tha Phae Gate and Three king Monument.
Tha Phae Gate
Three Kings Monument
For more information please call 053-249169