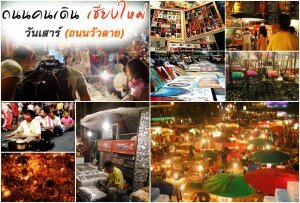 Road village silverware flatware old district of the city where people with career nearly all the silver longtime successor generations. Every Saturday the Wua Lai at 1700 - 22.00 hrs will be off the road into a pedestrian street. Highlights of Walking Street, this is a niche product, choose jewelry that is unique feature of the area. Vendors indigenous people living in the area Wualai majority. You can buy a beautiful silver pattern. Whether it's jewelry. Or decorative relaxed mood. It is a local product from the manufacturer directly.
It is recommended to visit the important temples include Wat Sri Suphan in this area, which has a great series of handcrafts the ancient craftsmen created consisting of silver and aluminum carved temple wall covering the whole building. Both outside and inside the picturesque. Substances, and thousand This is the oldest temple in Chiang Mai. Atmosphere of the sacred relics capacity Siwichai is here too.
Come walk Wua Lai Saturday. Parking is on the street, and the street was the crowd on the streets and Thippanate Road.